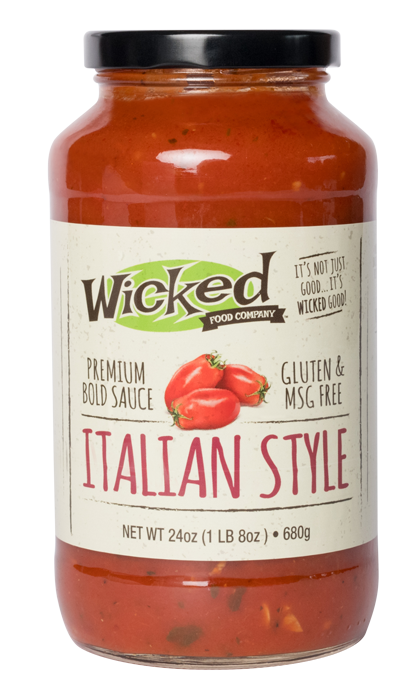 Italian Style
Premium Bold Sauce
With just the right mix of sweet and spice, our Italian Style sauce adds a little saucy kick to your recipes without overpowering. Toss it with your favorite pasta – and it makes a wicked lasagna!
Are you craving an authentic Italian pasta dish? You are in luck! Wicked Food Company can help. We have created a classic marinara sauce with just a hint of red pepper that will take your pasta nights over the top. When it comes to sauces – this is the best of the best. Why, you ask? Because we only use real, quality ingredients.
You will not find artificial flavors in our Italian Style Pasta sauce. When you try our sauce, you will want to share it with everyone you know. So, go ahead! Throw a little pasta party featuring our Italian Style Pasta Sauce. Use it on top of your delicious pasta or as the best marinara dipping sauce known to man. It really does not matter; your guests are bound to love it.
The only problem with using our Italian Style Pasta Sauce? Once the jar is gone, you'll have to go back to the store for more!
Our Italian Style Pasta Sayce sauce tastes really great and is top quality, but that is not all. Making a delicious meal is easy when you have a jar of Wicked Food's Italian Style Pasta Sauce. No matter if you are making chicken parmesan, keeping it simple with spaghetti and meatballs, or getting fancy with homemade ravioli, our sauce perfects your dish in less than ten minutes!
Simply warm up the stove, turn on the oven, or even put it in the microwave. Any way you dish it will be absolutely irresistible. We guarantee it. Not only does this sauce make meal prep a breeze, but it is also easy to find. Go to your local grocer and go to the pasta sauce aisle and stock up on a jar or ten. You will not regret it!
Once you use our bottled Italian Style Pasta Sauce once, we are sure that it will become a weekly staple in your house! So, what are you waiting for? Your family, friends, and anyone else you feed will thank you!
Nutrition Facts & Ingredients
Gluten & MSG Free • No Artificial Colors • Trans Fat Free
INGREDIENTS: Tomatoes, Tomato Paste, Water, Onions, Soybean Oil, Garlic, Olive Pomace Oil, Basil, Salt, Chicken Flavor (Dextrose, Salt, Chicken Fat, Yeast Extract, Natural Flavor, Onion Powder, Turmeric), Chablis Cooking Wine [Wine, Salt, Potassium Sorbate (preservative), Potassium Metabisulfite (preservative)], Spices, Citric Acid.
REFRIGERATE AFTER OPENING