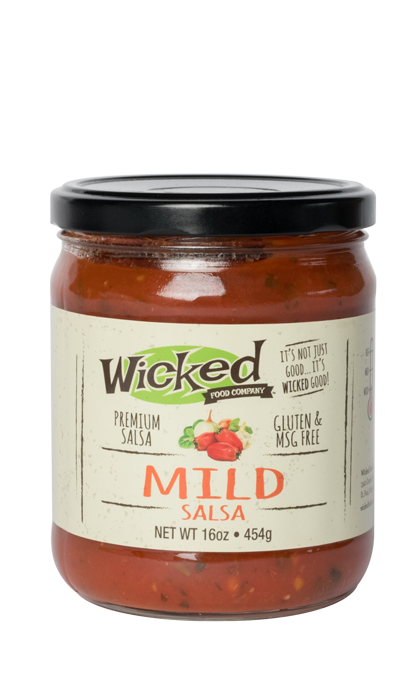 Wicked salsa is made right here in Red Wing, Minnesota!
Our Salsa starts with the best ingredients we could find and just the right spice, for dipping and snacking – or as a tangy addition to favorite recipes.
Are you looking to add a little extra spice (emphasis on the "little") to your life? Never fear! Wicked Foods new Mild Salsa is here! While the salsa may be mild, it is by no means boring. In fact, we would say it possibly one of the most exciting salsas on out there. Made with a flavorful blend of ripe tomatoes, zingy peppers, spicy jalapenos, delicious onions, and the perfect blend of herbs and spices right here in the USA, you honestly can't go wrong. Plus, our salsa is always made gluten & MSG-free and with no preservatives. Whether you need a quick afternoon snack (hello chips and salsa!) or a delicious dip to go with your dinner entree, our salsa is the perfect addition to your pantry. You can even use it to make a main dish – have you ever tried crockpot salsa chicken? With Wicked Salsa, it is perfection. Simply dump our salsa in the crockpot with a few chicken breasts, cook on low for four to six hours, and bam! Dinner.
We all know that mild salsa is the perfect salsa for just about any gathering, and ours is crowd pleaser. From a big birthday bash to a low-key potluck, and from a night in with the family to a work party, our salsa will be a hit. Just trust us. Fresh and delicious, you and your party-goers will not be able to resist our dip. It is just a fact – that means you should probably stock up and fast! You definitely do not want to see what happens when you run out of Wicked Salsa (hint: hangry riots *may* ensue). So run on over and grab a jar from your local grocery store to see what you are missing out on and then get ready to have a real-life salsa addiction. With Wicked Mild Salsa, you will be able to take just about any dish or snack and make it exceptional. We can't wait to take your ordinary day to extraordinary. So dip, stir, mix, and create new dishes with our Mild Salsa. Enjoy!
Nutrition Facts & Ingredients
Gluten & MSG Free • No Preservatives • No Artificial colors • Trans fat free
INGREDIENTS: Tomatoes, Tomato Puree (Water, Tomato Paste), Onions, Jalapeno Peppers, Garlic, Cilantro, Salt, Soybean Oil, Sugar, Spices (including Paprika and Turmeric), Cornstarch, Oleoresin Paprika, Pure Olive Oil, Lemon Juice Concentrate, Natural Flavors.
REFRIGERATE AFTER OPENING