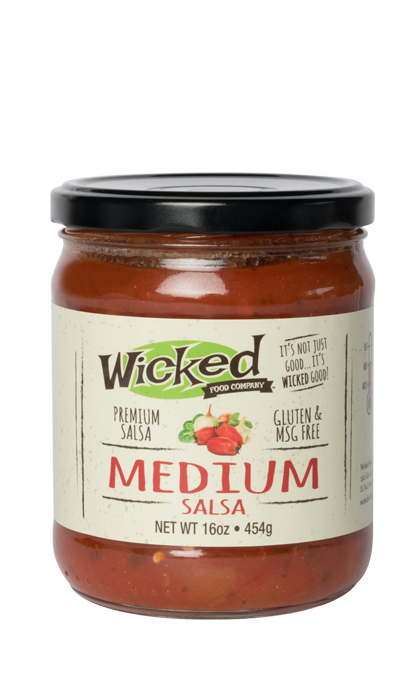 Medium Salsa
Premium Salsa
Our Salsa starts with the best ingredients we could find and just the right spice, for dipping and snacking – or as a tangy addition to favorite recipes.
Wicked salsa is made right here in Red Wing, Minnesota! Our all-natural salsa takes the hassle and expense out of serving unique AND delicious salsa. Wicked Salsa is also packaged in more environmentally friendly plastic bags compared to those bulky plastic containers, making them easier to manage and taking up less space in your trash bin. And, best of all, your customers will say It's Wicked Good!
Wicked Medium Salsa has the perfect kick of flavor for anyone who likes to take a walk on the spicier side of life, turning up the heat with a generous helping of jalapeño peppers. After one bite, your taste buds will be tingling for more, and you'll enjoy the perfect amount of heat without feeling like your mouth is ablaze.
Add Fresh Flavor and Spice to Any Meal
Considering that Wicked Medium Salsa is a premium blend of fresh-chopped produce and spices, it basically qualifies as a health food – so you can go right ahead and feel good about enjoying it at every meal. There's nothing wrong with sticking to the tried and true combination of tortilla chips and salsa, but there are plenty of other ways you can spice up your life with all the delicious flavors of our Medium Salsa:
1.)At Breakfast: Top your morning eggs with a heaping spoonful of Medium Salsa for a wake-me-up kick, or switch things up and serve up spicy breakfast tacos complete with our salsa, eggs, bacon, and spicy diced potatoes.
2.) At Lunch: Mix our Medium Salsa into your midday wrap to make lunchtime a little more interesting and delicious.
3.) At Dinner: Make Taco Tuesday a tasty tradition with our Medium Salsa, or simplify weekday dinners by combining your favorite protein and Medium Salsa in the slow cooker for an easy and appetizing meal.
4.) For a Snack: Dip fresh-cut veggies, like bell peppers, cucumbers, and carrots, into Medium Salsa for a guilt-free snack that doesn't skimp on flavor.
An Ingredients Label that Doesn't Require a Dictionary
At Wicked Food Company, we believe that truly great products can only be made with the very best ingredients, which is why you won't find any preservatives, artificial colors, or MSG in our Medium Salsa. Skim the ingredients label, and you'll see that we've packed every jar with fresh, natural ingredients that you can easily recognize.
After plenty of taste testing – and lots and lots of tortilla chips – we finally landed on the perfect balance of diced tomatoes, onions, jalapeno peppers, garlic, cilantro, and seasonings. The final product is Wicked Medium Salsa, a tangy topping that gives just the right amount of kick to chips, burritos, salads, meats, tacos, and more. It's just like homemade, but even better: instead of chopping, mixing, and measuring, all you'll have to do is open the jar and enjoy.
Nutrition Facts & Ingredients
Gluten & MSG Free • No Preservatives • No Artificial colors • Trans fat free
INGREDIENTS: Tomatoes, Tomato Puree (Water, Tomato Paste), Onions, Jalapeno Peppers, Garlic, Cilantro, Salt, Soybean Oil, Sugar, Spices (including Paprika and Turmeric), Cornstarch, Oleoresin Paprika, Pure Olive Oil, Lemon Juice Concentrate, Natural Flavors.
REFRIGERATE AFTER OPENING