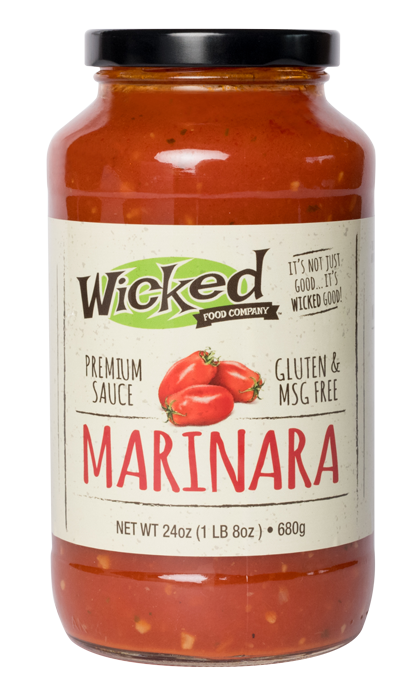 Get ready to start a new family tradition with Wicked Marinara Pasta Sauce. When you try this incredibly delicious sauce, you will probably want to eat it every day, and that is exactly how your weekly Italian night will be born. Made from fresh garden tomatoes, onions bursting with flavor, aromatic garlic and the perfect blend of spices, our marinara is the best sauce you can use to create your signature Italian dishes. From lasagna to rigatoni to spaghetti to ravioli, the possibilities are virtually endless when you have a jar of Wicked Marinara.
Wicked Food Company is committed to providing our customers with only the best. That is why we do our best to offer our customers what they want when they want it. Whether you are throwing a big dinner party and want to create a culinary masterpiece for your guests or are having an intimate dinner for two with your someone special, our marinara sauce is the perfect complement to just about any Italian dish. So get creative and start using Wicked Marinara as a dipping sauce, in casserole dishes, and, of course, on top of or mixed with your best, secret recipe pasta dish. Your guests will thank you when you use our marinara. That is just a fact.
Though the taste of our marinara is a big plus, the ease of use is also a huge benefit. All you have to do is heat and serve. No matter if you want to use it as a simple and delectable dip for your homemade twisty breadsticks or as the base for your hearty meat sauce, just heat and eat! There really is nothing as simple or as delicious as our sauce. So, what are you waiting for? Run down to your local grocer and raid their pasta sauce aisle. Having our sauce on hand is always a fantastic idea. You'll love having it on the shelf to meet your dinner needs.
Nutrition Facts & Ingredients
Gluten & MSG Free • No Artificial Colors • Trans Fat Free
INGREDIENTS: Tomatoes, Tomato Puree (Water, Tomato Paste), Onions, Garlic, Carrots, Olive Pomace Oil, Sugar, Salt, Soybean Oil, Basil, Citric Acid, Spices.
REFRIGERATE AFTER OPENING