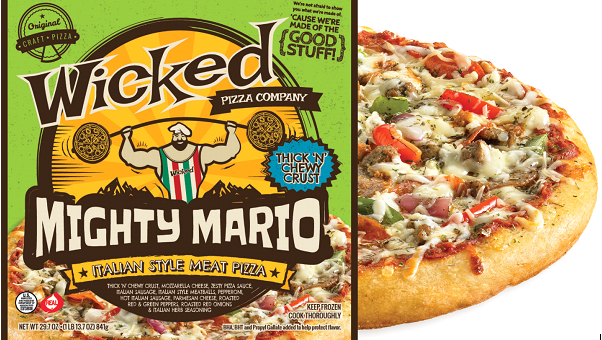 Wicked Pizza Highlight: Mighty Mario
It's official. Your search for the best store-bought pizza is over. No need to try and taste test every single pizza at your local grocer, we have already done the work for you. The Mighty Mario pizza by Wicked Food Company is the only pizza you will ever need to satisfy your late-night frozen pizza cravings. Here's why:
All the Right Stuff
From Italian style meatballs to red and green peppers, the Might Mario has all the ingredients you could ever wish for. When you bite into a slice, you will be met with the perfect blend of flavors. Melty cheese, zesty pizza sauce, and the most mind-blowing crust you will ever have the pleasure of tasting. We know that pizza is not just a game, it is a way of life and that is why we took the Mighty Mario mix seriously.
Quick
Whether you are having a party or you just want a snack, you want your pizza fast. So we made it easy. When you are in the mood for pizza, just set your oven to 450 degrees, pop it in, then take out your perfectly cooked pizza 12 minutes later, let it cool for a minute, then take a bite. The perfect meal has never been so easy.
No Skimping
Unlike other frozen pizzas, we do not skimp on the toppings here at Wicked. When you buy a Mighty Mario, be prepared for a glorious pizza stacked with toppings. A pizza that will keep you both full and satisfied until your next meal. As we said, we take our pizzas seriously around here.
Easy to Find
Now that you know about the Mighty Mario, we are guessing you want it like yesterday. That is why we have made it easy for you to find. Simply head on down to your local grocery store and run to the frozen foods. Now you can stock up on a box (or ten) of the best-frozen pizza available. You are welcome!
Pizza is the universal party food – especially when it is made right. Get your Mighty Mario pizzas today and let the party begin!