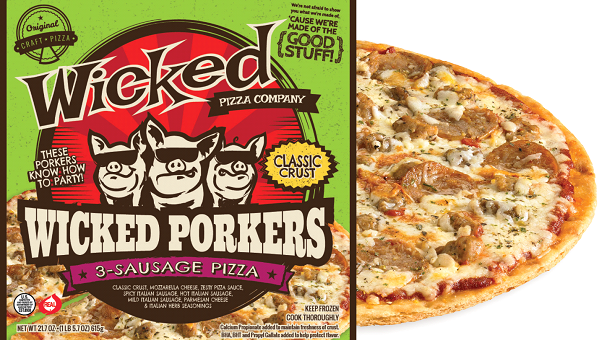 Wicked Pizza Highlight: Wicked Porkers
Buckle up sausage lovers because your obsession is about to become a whole lot stronger! When you try our Wicked Porkers pizza, you won't be able to get enough. Our Wicked brand is the best store bought pizza on the market, and the Wicked Porkers pizza is no exception. Check out why…
The Best Mix
Mild, hot, and spicy sausages all make a debut on this piping hot commodity. No need to choose a favorite; they all blend perfectly to give you a flavor you will never want to forget. When you serve this pizza to friends and family, they will not be able to get enough.
The Essentials
Just because our toppings are the best does not mean we skimp on the quality of crust, sauce, and cheese. In fact, it is just the opposite. From our classic perfectly crisp crust to our zesty tomato pizza sauce with just the right amount of flavor, and our delicious melty parmesan and mozzarella, we take quality seriously. That is why you will never be disappointed when you bite into our 'za.
The Ease
Let's be honest; making food can be a drag sometimes. All the prep and clean up can really take its toll after a long day. So do not let mealtime be a bummer! Grab a few Wicked pizzas from the freezer aisle, heat your oven to 450, and let the oven do its thing. Just 8-12 minutes later you will have the perfect pizza – no dishes necessary.
The Company
Pizza is always better when you share it with other people. Wicked Porkers pizza makes it basically irresistible to say 'no' to an invitation. So throw a few pizzas in, text your friends, and get the party started! It really is that simple.
No matter your reason for loving a good frozen pizza, Wicked Porkers pizza has got all your bases covered. So what are you waiting for?! Run, do not walk, to grab your new favorite pizza today. You will not regret it. If you want more info on our pizzas or where to grab them, drop us a line here. We are always happy to answer!