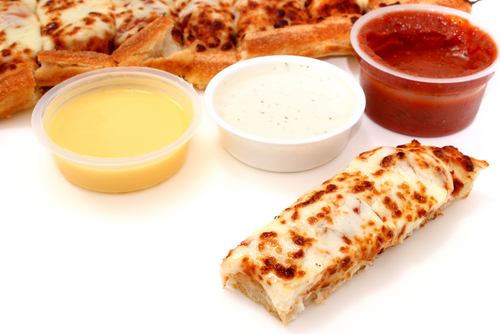 Do You Dip? 4 Wicked Pizza Dipping Sauces
Ahh, pizza. The universally loved food that has been celebrated by basically everyone for decades and for good reason. It's cheesy, crunchy, and can be loaded with toppings or enjoyed without them. The only thing that could really make it better is a dipping sauce. Honestly, the 90's rap song puts how we feel about dipping pizza best when they break it down singing, 'I dip, you dip, we dip.' We definitely should all try dipping our pizza, but what are the best pizza dipping sauces? We're glad you asked.
Ranch
Tangy, creamy, and delicious, ranch is the perfect addition to just about any pizza. Whether you pair it with zesty pepperoni or crunchy vegetable pizza, it just tastes good, and that's all that really matters when it comes to pizza dipping sauces. So, what are you waiting for?! Get your favorite Wicked pizza at your local grocer along with some cool ranch and get your dip on.
Garlic Sauce
Buttery, garlicky goodness – what more could you ask for? Garlic sauce adds an explosion of flavor to pizza crust and complements the Italian elements of pizza perfectly. That's why it's one of the classics. Trust us; if you haven't tried garlic dipping sauce, you'll want to add it to your bucket list ASAP.
Marinara
What's better than marinara sauce on your pizza? Dipping your pizza into marinara! For some sauce lovers, the pizza sauce just isn't enough to satisfy their deep love of flavorful tomato sauce. If that's you, get to dipping and add that extra element you've been missing.
Hot Sauce
Pepperoni and red pepper packets add a zesty punch to your pizza, but hot sauce brings the heat. Add a little spice to your slice with hot sauce. Tabasco, Cholula, Sriracha – it doesn't matter! Choose your favorite hot sauce and get that kick you've been waiting for by dipping! We know you want to.
Grab a Wicked Pie and Try!
We think it's safe to say that by now we all agree on one thing – pizza dipping sauces are the way to go when it comes to upgrading your pizza experience. No matter your dip preference, you can grab one of Wicked's delicious bake at home pizza options at the grocery store and get your dip on today. We can't wait for you to start a Wicked pizza dipping revolution!