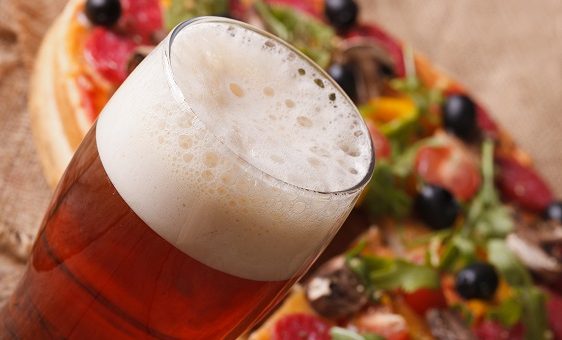 What Beers Go Best with Wicked Pizzas?
Peanut butter and jelly. Cheese and crackers. Cake and ice cream. All of these pairs belong together, and pizza and beer is no exception. Especially on a Saturday night. If you're planning an epic get together with friends this weekend, impress them with the perfect pairing of pizza and beer with a delicious bake at home pizza from Wicked Food Company and a local (or not) beer. So what beers pair the best with Wicked's pizza selections? We've made it easy for you. Check out our list below to see what type of ale you should pair with the best-frozen pizza out there.
Devil's Delight:
This sinfully spicy three-meat pie pairs perfectly with a malty sweet ale. If you love the heat, but need a little respite in between bites, pairing spicy with sweet will tone down the spice level and make your pizza experience extra delicious.
Meatzilla:
With Italian sausage, Canadian bacon slices, pepperoni, hot Italian sausage, and sizzling bacon, this pizza packs a punch all on its own. That's why it is important to pair it with a beer that can slice through the powerful flavor profile. Hoppy and bitter beers do this perfectly as they can take a punch or two and still stand up next to the Meatzilla.
Mighty Mario:
Veggies, meat, and delicious cheese make this pizza a real crowd pleaser, and when you pair it with the perfect IPA you can accent the veggies and downplay any oiliness from the cheese with the bitterness from the IPA. Satisfy all of your guests with a tasty Mighty Mario and some IPA.
Wicked Porkers:
Sausage lovers unite! Our Wicked Porkers Pizza features not one, not two, but THREE types of sausage. With so much sausage you'll need a beer that both adds depth to the flavor of the sausage and is a titch sweet to balance out the meat's inherent saltiness. So what single beer can do both things? A unique chocolate milk stout does the trick!
Beer and pizza is the perfect way to bring your favorite people together. So, what are you waiting for? Head on down to your local grocer today to pick up a frozen pizza and its proper beer companion! To learn more about Wicked Food Company's awesome selections of pizza for your next party, check out our products page and get ready to have an intense ride on the tastebud train.