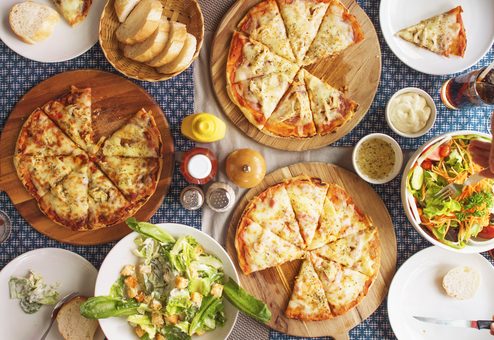 6 Tips to Throw a Wicked Pizza Party
Pizza parties are basically a rite of passage. Your first slumber party? Probably a pizza party. Class celebrations? End of season soccer get-together? Pizza party. So what's to keep you from keeping the pizza tradition alive and well as an adult? The answer. Nothing! You're an adult. You can have a wicked awesome party anytime, anyplace and we have some tips to help it be the best party ever.
Set the Mood: Turn on your favorite 90's jams, hang up some pretty twinkle lights, and pull out the old Dance Dance Revolution mat to set a casual yet classy pizza party vibe. Everyone loves a chill party, and these throwback suggestions will help you to achieve that feel.
Variety, variety, variety: Serve a variety of different pizzas so that everyone can enjoy! Wicked Food Company has an awesome collection of frozen pizzas so you can cater to your guest's taste buds. From the Mighty Mario Italian Style Meat pizza to the Devil's Delight Spicy Pepperoni, you just can't go wrong with the best-frozen pizza around.
Build-Your-Own Salad Bar: To make your pizza party just a titch more 'adult,' set up a salad bar so your guests can have pizza and a side salad. Making it totally customizable for your guests makes it both fun and tasty for your friends.
Serve It Hot: Preparing your pizzas at home rather than ordering it will make it so your pizza is piping hot and delicious when you're serving it to your guests. Bake at home pizzas like Wicked Brand pizzas makes it easy to serve your friends pizza that is fresh, hot, and delicious throughout the entire night, not just right at the beginning. Just pop a couple in at the beginning, and they'll be ready in no time. It's as simple as that!
Serve Dessert: Let's be honest, everyone has room for dessert even after eating their weight in pizza. That's why ending your night with some ice cream (or another equally delicious dessert) is the perfect way to 'fill in the cracks.' Your guests will love it, and you'll be crowned pizza (and dessert) party royalty.
To-Go Boxes: Who doesn't love eating pizza for breakfast? Thank your guests for coming with some to-go slices. It's an easy (but awesome) parting gift. We know we wouldn't turn a to-go box full of Wicked Pizza away.
So if you're ready to throw the best pizza party ever, follow these tips and go and find Wicked Frozen Pizzas at your local grocer today. You'll be glad you did. Trust us!